News
6 Risks That Can Impact Your Retirement
Make sure your money lasts as long as you do. Learn about the risks that can impact your financial security in retirement. VIEW NOW.
5 Must-Do's When Saving for Retirement
Learn if you're saving enough and in the right places to meet your retirement goals. Download now.
Protect your largest asset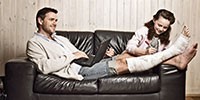 Disability income insurance can protect your largest asset - your income. Northwestern Mutual can help. Learn more about how a disability insurance policy can help protect your income and your family.